Realgestalt Agency
Realgestalt is an owner-operated agency for strategic brand development, corporate design, brand design, naming, web concept, social media, and brand communication located in Berlin.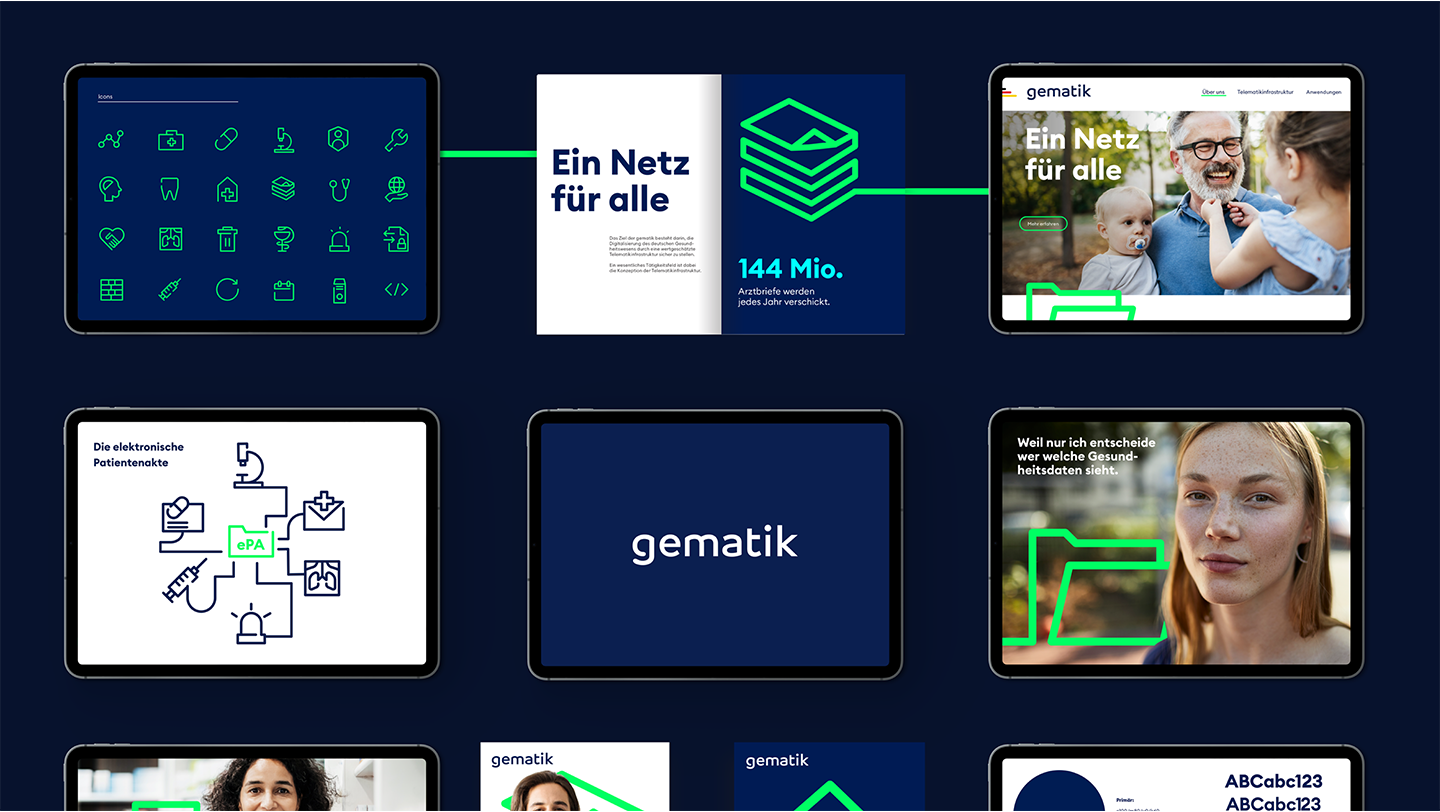 gematik Corporate Design
The digitisation of the German health care system is one of the largest IT projects in Europe. gematik GmbH is responsible for supplying secure and sustainable infrastructure, and Realgestalt developed the new corporate design for the Berlin-based company.
BER Corporate Design
Naming and Corporate Design for Berlin's upcoming new, main airport: The unification and compliance of IATA-Code, Destination, Names, and Trademark is unique the world over – just like the construction time.
Deutsche Oper Berlin Communication Design and Social Media
Realgestalt's goal: get more people to go to the opera. To kick off this project, we invited the ingenious illustrator, Christoph Niemann, to play with the concept "Grand Opera – in Berlin."
LOQI Brand Design, E-Commerce and Webshop
We have quite strong feelings when it comes to the Berlin lifestyle brand LOQI: It's the only bag you really need.
Further references
News
Christian Günzel's purpose is to make people happy. He has something in common with Mary Poppins and that gave our beloved collegue Thomas Kelly the inspiration for the new brand name SPOONFUL BERLIN. So the renowned Eismanufaktur Berlin (an invention of our client) starts this summer with a new name, a new design and a new website to continue this mission. Because what is more beautiful in human interaction than happiness?




Anyone who has championed good product design over five decades has a lot to tell. In this book, published by avedition, we tell design history(s) together with our client, based on 50 products and with contributions from and about the people who have made MAGAZIN what it is today: Germany's highest-profile brand when it comes to contemporary product design.




With the combined forces of Daimler Truck AG and the Volvo Group, the cellcentric joint venture brings together 30 years of experience in the development of safe and efficient fuel cell systems. By using hydrogen in the fuel cells, the systems generate energy without emitting anything other than pure water. We produced the first website including web concept and web design for the company, within one week.




It's a pretty smart idea to bring TGA engineers and architects together to tackle the demands of highly complex retrofits in existing buildings. This is exactly the recipe for success of corpo two. We had the privilege of redesigning and relaunching the website for these experts.




Half a century for such a young brand? How does that work? Anyway, the 2021 catalog not only contains an insightful look back at the roots of Magazin, but is a cornucopia of exciting, unique, incredibly practical and highly desirable products for everyday use. Give us a call: We will send you our copy.




As a branding agency, Realgestalt has covered the entire spectrum of brand development for the new BER Airport, from brand strategy and naming to corporate design in all its facets.




Our campaign with artwork by Christoph Niemann for the Deutsche Oper Berlin won the Red Dot Award for excellent Brands & Communication Design 2020.




On behalf of the federal government,

gematik

was asked to lay the foundations for the digitalization of

Germany's healthcare system.

For this monumental undertaking, Realgestalt developed a smartly tailored Corporate Design defined by its overarching use of the Line – one that links Design and Content with Communication and all the project's diverse initiatives.




In small groups of no more than 15 travellers, the customers of the Berlin tour operator, YOLO, discover exotic destinations and new living environments at 31 destinations all around the world. Realgestalt developed the Yolo logo design further, conceived the editorial design for the new catalogue and supervised every detail of its production.




The multi-channel dealer, a subsidiary of Manufactum GmbH (Otto Group), offers a reliable pre-selection of products. Realgestalt conceived, designed, and produced the editorial design for the 2020 catalogue. Further services: corporate publishing, copy writing, communication design, photo production, art direction, and styling.



Our Agency's Services
We began every project with a thorough analysis. The next steps are drawn from the diverse spectrum of services we offer: from brand strategy and brand design through to employer branding and corporate communication; from social media concepts and web design to website production and architectural branding. Services
Brand Strategy
Brand Strategy is the binding, long-term plan for how to achieve a brand's desired goal. The first step is to establish the brand's value(s), then focus on development and growth, as well as – when and where applicable – the overarching strategy and values of the company and their augmentation. We engage our clients with deep discussions and close cooperation to determine which brand model is best suited to their specific preferences.
· Communication Strategy
· Positioning
· Brand Architecture
Brand Strategy
Brand Architecture
Communication Strategy
Brand Creation
Convincing design and engaging content require a strategic foundation. In this case, creativity is not an end in itself but rather the requirement for creating a brand world that is consistent yet innovative, one that continues to surprise and impress time and again.
· Naming, Logo, Colors
· Picture and Illustration Style
· Design Principles
· Communication Style
· Social Corporate Identity
· Interaction / Motion Prinzipien
· Brand Experience
· Corporate Sound
· Corporate Design
· Corporate Identity
Brand Experience
Only after interacting, after that concrete experience, can customers establish a connection to a brand. A User Experience that is exhaustively conceived of down to the smallest details is an absolute necessity for digital products. Intelligent interactions serve to satisfy more than just the temporary needs of the customer; indeed, it is in that momentary interaction that an emotional connection to the brand is created, a connection that persists long after that one moment has passed.
· Website
· Newsletter
· Social Media
· Business Stationary
· Sales Literature
· Magazine
· Architectural Branding
· Merchandise
· Campaigns
The consistency of every brand can be assessed
through the following three criteria:

Is the promise made by the brand maintained?
Is the service offered relevant to the target audience?
Is the brand unique amongst its market competitors?
Our Team
At Linienstraße 40 you'll find designers, copywriters, digital developers, social media experts, project managers, and strategy consultants.
"A convincing brand transforms its customers into ambassadors."
– Jürgen Michalski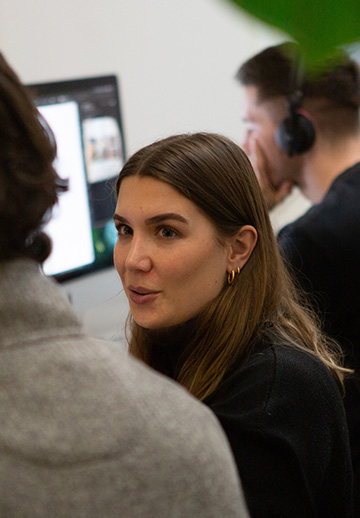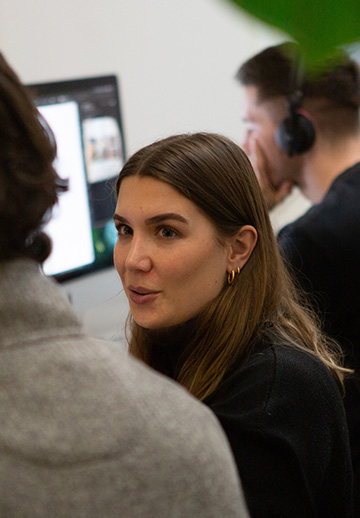 "Quality design is demarcated by a foundation that is easily comprehensible yet strategically derived."
– Anne Kohlermann
"A strong brand is always ahead of its time."
– Johannes Ritzel
@Realgestalt
Was ist Ihnen Ihre Marke wert?
Lassen Sie es uns
gemeinsam herausfinden.
Kontakt